Many people who travel from China to the Netherlands with their debit card on them are shocked when they find out the challenges of getting Euros with their UnionPay card – and the information at hand is contrasting and confusing.
It is late at night in September of 2017 when my friend arrives at Schiphol airport from Beijing. He is an experienced traveler, and in the months before coming to Amsterdam he visited South-Africa, Kenya, Vietnam, Iceland, and America.
Of all these places, Amsterdam is the only place where he runs into a problem with his Chinese bankcard: none of the ATMs at Schiphol Airport accept it. We later find out that none of the cash machines in Amsterdam city center do so either.
In the summer of 2018, another friend from China is stranded in Amsterdam with only 3 euros on him and his UnionPay card. He is traveling through Europe, and the Netherlands is the first location where his card suddenly does not work.
It turns out that after nearly a year, nothing has changed for UnionPay users who visit Holland. On Chinese forums, many people are facing the same problem.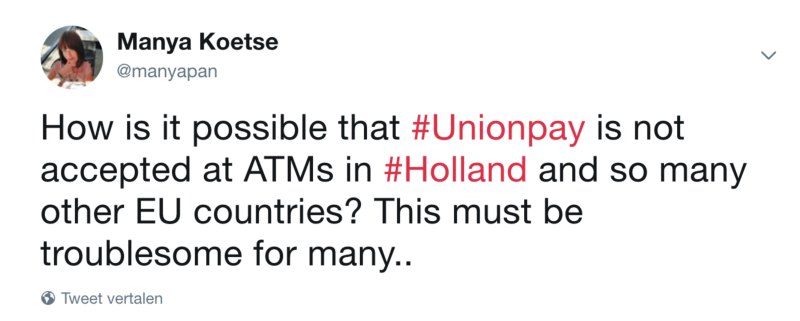 My friends, respectively, have bank accounts at Beijing's China Merchant's Bank and CITIC bank that come with a UnionPay debit card, which is very common in mainland China (Chinese: 银联). According to the UnionPay International card website, it can be used in 168 different countries.
The Netherlands is on that list, but the possible use of UnionPay is very limited within the Netherlands; some more touristy spots such as the Tulip Park, Gassan Diamonds, Royal Diamonds at the Zaanse Schans, or Batavia Stad Amsterdam Fashion Outlet will accept UnionPay.
De Bijenkorf, one of Amsterdam's major department stores, also says it accepts UnionPay, as well as Alipay and WeChat.
Option 1: Dutch Bank ATMs
But that does not help my friends from China who only brought their UnionPay cards to the Netherlands and need to withdraw Euros. The main banks in The Netherlands, such as Rabobank, ABN, or ING, will only accept international cards affiliated with Visa/Mastercard/Maestro/Cirrus.
ABN Amro replied to my UnionPay inquiries on Twitter, confirming that their ATMs only accept Visa- or Mastercards, and no other cards.
UnionPay also responded to my question to them on Twitter, with a link to an ATM locator that does not provide any options of banks to turn to.
Please refer to: https://t.co/MQbPiPm2yv or https://t.co/lB95pcZsqB https://t.co/nL6mkQ2Be1

— UnionPay Intl (@UnionPay_Intl) 3 augustus 2017
Option 2: Chinese Banks in Amsterdam
Some Chinese banks have an office in Amsterdam. The ICBC, for example, has an office in Amsterdam on the Johannes Vermeerstraat 7, but their offices do not provide services for individual clients and also have no withdrawal services (we went there).
Option 3: EURONET ATMs
Over recent years, the yellow and blue ATMs by the company Euronet Worldwide have been mushrooming across Amsterdam and in other tourist spots. Especially in the Red Light District area and around the Dam area, these ATMs can be found in many tobacco & giftshops.
According to the Twitter client service of the Rabobank, the use the UnionPay card is only possible in the Netherlands at these ATMs of EURONET. (Since Rabobank does not have a contract with EURONET, it is not possible to use the UnionPay card at their ATMs.)
This is all somewhat confusing as Euronet and UnionPay are giving out mixed and confusing messages. UnionPay also confirmed to me on Twitter that Euronet would accept their cards.
However, when I telephoned the Euronet Worldwide service number in July of 2018 to inquire about this, they said their machines would not accept UnionPay at all in the Netherlands.
How confusing!:
* Many Euronet ATMs in Amsterdam do have a "UnionPay Accepted" sign, but when you try to take out money, it won't accept the card.
* UnionPay says its cards are accepted with Euronet, but Euronet says they are not.
LAST OPTION: Western Union?
So what are the options for people such as my friends who arrive in Amsterdam without a Visa/Maestro and only their UnionPay? Firstly, of course, the best advice is to get the message out there that they will have a hard time using their UnionPay in the Netherlands in the first place, so that they better bring cash or a Visa- or Mastercard.
But for those already stranded in Amsterdam; there is a Western Union at Amsterdam Central station (a GWK with Western Union services). It is an option to have loved ones or friends back home send you money through there, although the exchange rates and the transfer costs are usually quite disappointing. It is an expensive option.
If you have Paypal, you could always transfer money to someone you know in the Netherlands (or perhaps ask your hotel?) and have them give you cash. Make sure you transfer enough money so that all exchange rate costs are covered, and you pay the fee.
Another option, although quite drastic, is to go to Belgium and Germany, where UnionPay is accepted at more than half of the ATMs.
For my friends, it worked out okay; with the financial ecosystem between us of Wechat/Paypal and Dutch/Chinese bank accounts, we've made it work with some transferring of money.
But for the future – let's hope that UnionPay and Dutch banks will find a way to work together, because for many visitors from China, this issue really is a pain and takes time away from enjoying Amsterdam's beautiful canals!