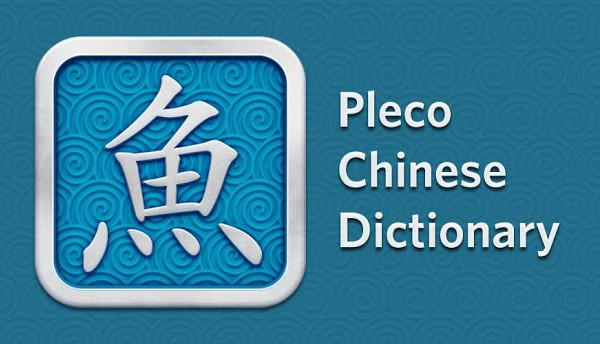 Before I got a smartphone, I used to walk around with a bag full of different dictionaries and language books in order to study Chinese. Those days are over. Countless apps have emerged over the years that will help you improve your Chinese. This top 10 apps for studying Chinese is my personal list of favorits, good for anyone studying Chinese from beginners to advanced level.
UPDATE: Top 10 of Best Chinese Apps (iPhone/Android) 2015
1. Pleco Dictionary
Price: free (elementary), US $49.95 (basic package), US $99.95 (professional package) + optional add-ons.
Compatibility: iPhone/iPod/iPad, Android, Windows Mobile, Palm (OS)
Website: www.pleco.com
Pleco is the dictionary to go by for anyone studying Chinese, either elementary, intermediate or advanced level. It is available for Android and iPhone users. With its great range of dictionaries and handwriting recognizer, this is the essential dictionary app. The basic software is free and good for anyone on beginner or intermediate level. For the more advanced learners, you can purchase add-ons – from ABC Chinese-English dictionary to optical character recognizer. I bought the professional package (US $99.95) back in 2007, and got excellent service when I had questions about transferring the app to my new iPhone in 2009 and then to my Android in 2013, which was no problem at all (mind you, it is currently not possible to transfer it the other way around, from Pleco Android license to iOS). What I personally find one of the most exciting features of Pleco is the Pleco Reader; this allows you to read articles in Chinese and to click on words/characters you do not understand – you will get an instant translation. Find out how it works here.
2. Nciku Dictionary
Price: free (online version), US $7.99 (full offline version)
Compatibility: iPhone/iPad, Android
Website: www.nciku.com
As long as you are connected to wi-fi or have a good Internet connection on your phone, you can fully enjoy everything the free Nciku app has to offer, which is a lot. Not only is this an excellent Chinese-English/English-Chinese dictionary, it also provides a different conversation to study every day, and vocabulary study-lists themed around different topics. If you prefer to work with Nciku offline (and want to avoid the ads), you can download the full version for US $7.99. The best aspect of Nciku probably is how it provides example sentences for most words, so you can immediately comprehend how to use a word once you have looked it up. Suitable for all people studying Chinese, from basic to advanced level.
3. CNTV (Chinese Internet Television)
Price: free
Compatibility: iPhone/iPod/iPad, Android
Website: www.cntv.cn/mobile
What better way to learn about Chinese language than to listen to it regularly? The CNTV app is developed by CCTV's online internet television network. Here you can watch the latest news, drama series or children's cartoons as aired on CCTV. You can also directly watch the CCTV live broadcast, but you will have to have a good Internet connection because the app tends to crash from time to time.
The app is in Chinese, but even if you are an elementary learner I recommend you getting it. Just play around with it and tap on the images to watch any program. Especially the programs for kids are okay to understand if your level is not that high (yet!). Happy watching!
4. Feed Me (Mandarin)! by Pencilbot
Price: US $1.99
Compatibility: iPhone/iPod/iPad
Website: www.pencilbot.com
Pencilbot makes learning languages fun through a game: feeding the purple little dragon what he wants to eat. Their "Feed Me!" app is (amongst others) available in Korean, Japanese, Arabic, and of course Mandarin. Okay, I will admit it: this app is actually meant for children around the age of 4. I will also admit that I have spent quite some hours feeding this dragon his red apples, blue birds or yellow squares. Not just because the the Mandarin is beautifully pronounced by a female voice, but also because the little dragon cheers you on in the cutest way when you get it right (…you will always be right, if you are over the age of 6). If you tickle his belly he will start giggling. Why is this app in my top 10? After playing this, you will know how to pronounce all the colors, shapes, numbers and some animals and fruits in Mandarin. If you don't like it, I assure you that your kid will.
5. TingMedia: Broadcasting Stories
Price: free
Compatibility: Iphone and Android
Website: tingmedia.com
'Tingke', or Tingmedia, allows you to listen to Chinese stories and music anytime, anywhere. Since the app is all-Chinese, it is most suitable for intermediate/advanced learners of Chinese. On the main page of the app, you can choose any type of audio you'd like to listen to. 1950s music, romantic stories or legendary tales; it's all possible. You could pick a novel and listen to a chapter per day. Make sure you have a good wifi/Internet connection so you can listen without any disruptions. Once you have discovered what you like to listen to, this truly is a gem of an app that deserves a top spot on your app list.
6. Mandarin Madness
Price: free
Compatibility: iPhone, iPad and Android
Website: mandarinmadness.com
What is the best way to start grasping a new language? Repetition, repetition, repetition. This is why Mandarin Madness is the ideal app to start studying Chinese and mastering new vocabulary. You hear the pronunciation of the character while it drops down. Your job is to tap the matching image as quickly as possible. The game repeats the word and character (sometimes only pronounced, or only written) until you get it right and recognize it. This is a suitable app for beginners, both children and adults.
7. Learn Chinese Mandarin Phrasebook (by Codegent)
Price: free for lite version, €4.05 for full version ("pro")
Compatibility: iPhone, iPad and Android
Website: codegent.com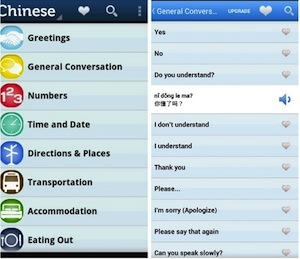 This is a basic Mandarin app that is most suitable for traveling or getting acquainted with Chinese. The free version provides basic expressions and sentences for situations such as introducing yourself, general conversation, transportation etc. The pro version includes more situations: hospital, dating, tourist attractions etc. The app is clear and has everything you need from a basic phrasebook. It provides the pinyin with tones, the characters, and you can click on any sentence to hear its pronunciation.
8. Baobei Ting Ting (宝贝听听)
Price: free
Compatibility: iPhone, Android
Website: 宝贝听听 on iTunes
I would also recommend this app if it didn't have the cute visuals it has now- but they do add to its charm. This application is actually meant as a storyteller for Chinese kids, and has hundreds of different stories to choose from in different categories, starting from the 0-3 age group, 4-6 age group, 7+ age group, to the national classics, modern fairy tales, etc. The variety makes it perfect for non-native speakers who study Chinese. Those at beginners/intermediate level can start with the stories for the young kids and try to train their way up. No better way to perfect your Chinese listening skills. And if you fall asleep whilst listening to one of the bed-time-stories, it's okay too. (Ever saw the Dexter "omelette du fromage" episode?)
9. Weixin Dictionary (微信词典)
Price: free
Compatibility: Android
Website: 微信词典 on Google Play
Since this is a dictionary specifically aimed at a Chinese audience, I would recommend it to advanced learners of Chinese. You can only search the dictionary in characters (not in pinyin). This is a comprehensive dictionary of Modern Chinese, including a chengyu dictionary, a classical Chinese dictionary and an English-Chinese one. The latter is quite nice because it gives translated example sentences in English and Chinese. The main reason to get this app, however, would be its extensive chengyu dictionary.
10. Sina News (新浪)
Price: free
Compatibility: Iphone/Ipod/Ipad, Android
Website: Sina.com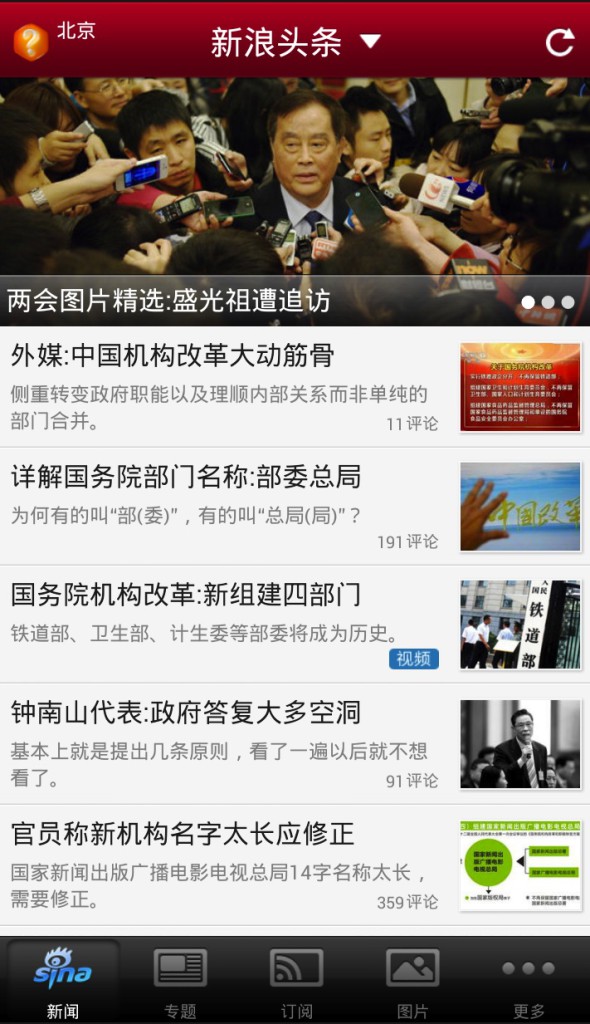 Sina News gives a clear overview of China's current headlines and is therefore arguably the best Chinese app on China's news around. Reading the news in Chinese might be something for advanced learners, but you could also download this app when it's still a bit difficult to read for you- especially if you have the Pleco dictionary installed, which is on the nr.1 of this list. Just tap on an article, copy the text go to your Pleco Reader. Here you can tap on all the words and characters you do not know and it will be translated right away.
Good luck and jiayou!